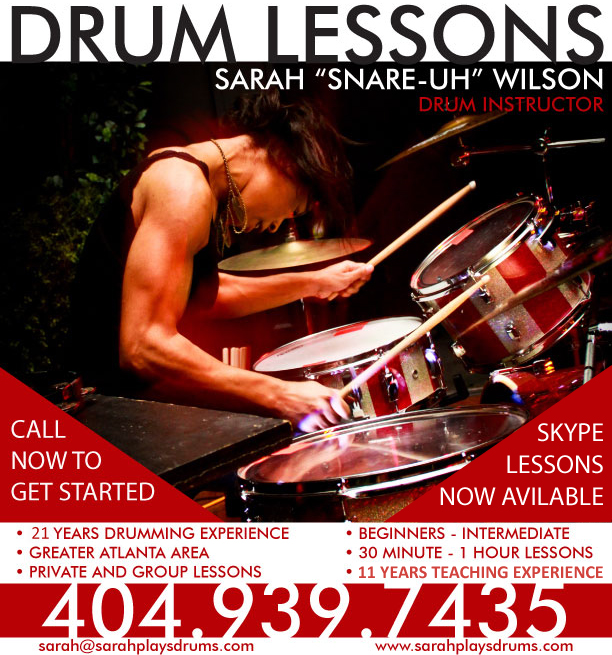 If you are looking to take drum lessons in or around Atlanta, GA, you are in the right place.
My name is Sarah Wilson, and I am currently offering private drum lessons in the metro Atlanta area.
I specialize in teaching drum lessons to beginner and intermediate students and am ready to get started with you today.
Playing drums is a skill set you will be able to continue to hone over a life time.
Without learning the proper technique and building off of a strong foundation, it will likely take you longer to get where you want to be.
With me you'll learn things like proper hand and foot technique, reading sheet music, groove, and beats on beats on beats!
Interested? If so click here to contact me today.
Why should you take drum lessons from me?
To start, I've been actively playing drums in bands almost two decades.
When I started playing drums, I took drum lessons myself for years making sure to learn proper technique.
Even though many people can play drums, teaching drum lessons takes someone that cares about the growth of their students.
My goal is to teach you and get you excited about playing, learn the technical side of drumming, and also how to let lose and really 'own' it.
Ready to get started? Contact me and let me teach you drum lessons.
What other people are saying about my drum lessons.
Sarah is the best drum teacher I've had. She really takes time to make sure I am playing correctly and I am getting better every day. – Annie
The first time I saw Sarah play drums, I knew I had to get her to teach me drum lessons. I am so glad I did, she's smart, funny, and makes learning drums really easy. – Christina
I've been taking drum lessons from Sarah for a while now and she continues to push and inspire me to become a better drummer. – Jackson
If you are ready to start taking drum lessons contact me.
About Sarah Wilson
Sarah Wilson has been drumming for over 20 years, with 11 years of touring under her belt. When she is not on tour, she enjoys teaching, and going to see live music.
Contact Sarah Wilson for Drum Lessons in Atlanta GA
If you are in the Atlanta GA area, and ready to take your drumming to the next level, let's get you started taking drum lessons with me today. Email me at sarah@sarahplaysdrums.com and I'll be in touch as soon as I can.